The Chocolate Cult - Part 1
Wow! Cocoa Paper is excited to have been reviewed by The Chocolate Cult.
The Chocolate Cult is a group of volunteers dedicated to the exploration and ecstasy of chocolate. Each week, the Chocolate Priestess leads the "Saturday Sacraments" by taking readers through the experiece of one type of chocolate or cocoa related product.
To read The Chocolate Cult's review of Cocoa Paper please click on the below picture.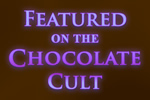 Cocoa Paper would like to thank the team at The Chocolate Cult for your honest feedback and thoughts on our products!